Ken's Marine Service,








Inc. has been serving








the New York/New








Jersey Tri-State








maritime community as








well as Bayonne and








Hudson County and the








five boroughs of New








York City for over twenty-five years. We offer a wide range of services available to our clients from oil spill cleanups to underground tank removals. Our equipment and personnel are available 24 hours a day, seven days a week for whatever situation may occur.
Our main office is located at 117 East 22nd Street in Bayonne NJ, directly across the street from our maintenance facility at 116 East 22nd Street. We also have an office at East 5th Street located in IMTT in Bayonne. 
Google Map





Company leadership
David Poesl -- Vice President

Joyce Lubach -- Corporate Secretary

employees and managers of our operations companies


Ken's Marine awarded by US Coast Guard

Robert Maher, a representative for World Yacht and Circle Line Sightseeing, and Ken Poesl, President of Ken's Marine Services, are presented Coast Guard public service awards at the New York Waterway Terminal, Feb. 18, 2009. The awards were presented by Janet Napolitano, Secretary of the Department of Homeland Security, and Admiral Thad Allen, Commandant, U.S. Coast Guard, and Rear Adm. Dale Gabel, Commander 1st Coast Guard District.

The ceremony was held to honor first responders for their quick response and actions during the crash of US Airways Flight 1549 on Jan. 15, 2009.

(Photo courtesy of U.S. Coast Guard Photo/Petty Officer Seth Johnson)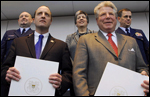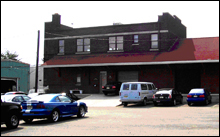 Certifications

& Training

• Certified by the NJ DEP

   for UST closures.

• Certified environmental

   trainers and instructors

   on staff

• OSRO Rating

• OSHA HAZWOPER

   Emergency Response

   training geared towards

   power station, marine,

   aviation, trucking & rail

   personnel

• OSHA 29 CFR 1910.120

   HAZWOPER response

   levels of training

• US Coast Guard

• US Navy

• US Department of

   Environmental Protection

• NJ Department of

   Environmental Protection

• Amerada Hess Bayonne

   and Port Reading

• Gordons

• Conoco Phillips at Bayway

   and Tremley Point

• KMI Carteret and OB

• Motiva Sewaren

• NYC Passenger

   ShipTerminal


Ken's Marine Services.  © 2010. All rights reserved.