Ken's Marine Service, Inc. has been serving the New York / New Jersey Tri-State maritime community as well as Bayonne and Hudson County and the five boroughs of New York City for over twenty-five years.


We offer a wide range of services available to our clients from oil spill cleanups to underground tank removals. Our equipment and personnel are available 24 hours a day, seven days a week for whatever situation may occur. Here's a summary of our various operating units:



Terminal & Facility Oil Containment Booming

Ken's Booming & Boat Service provides 24 hour a day, seven days a week booming service for our clients and their terminals and facilities. We have a trained staff of employees experienced in all facets of oil containment booming at terminals and facilities. Our clients for this service include several major refineries and terminals. We can layout, install and maintain any number of booming schemes for our clients for their facility or terminals. We also have available packages, which include maintenance and repair of boom, whether we installed it or preexisting. For further information, Please contact us at 201-339-0673 or 201-437-3541.

Bayonne Lineboat Service

Bayonne Lineboat Service, Inc., a division of Ken's Marine Service, performs the Linehandling duties at all the terminals, refineries and facilities in New York Harbor. This is a 24-hour-a-day, seven-day-a-week operation. We have a highly experienced crew in "tie-ups" and "let goes" of all type of vessels and barges. Our terminal clients include Amerada Hess Bayonne and Port Reading, Gordons, Conoco Phillips at Bayway and Tremley Point, KMI Carteret and OB, Motiva Sewaren and the NYC Passenger Ship Terminal. For further information, please contact Bayonne Lineboat at 201-436-8109 or fax us at 201-436-8456.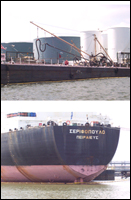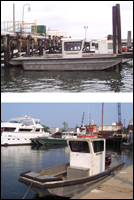 Average Most Probable Discharge (AMPD) Coverage Service

Ken's Marine Service offers full coverage service for our AMPD clients to help meet current OPA 90 requirements. Our AMPD coverage can accommodate a wide variety of needs, with coverage either dockside or alongside your vessel. Coverage is available for vessels, barges and terminals. We have a full array of response vessels outfitted for AMPD coverage. All response vessels have oil containment boom and oil-spill absorbents onboard. Our crews are all hazwoper trained. Our coverage of your vessel or barge begins when the first cargo hose is connected, whether it be to a barge, vessel or shore-side terminal and is completed when the last cargo hose is disconnected from the finishing unit. In the event of an incident or spill, our trained oil spill response crews respond immediately and assess the situation for corrective actions to be taken and remedy the problem. We work closely with the vessels captain, Q.I., P&I club, and the owners of the vessel.

We cover most of the New York/New Jersey tri-state area, including Execution Rock and Long Island Sound. For more information and details, please contact our AMPD office, 24-hours-a day, at 201-437-3541, or fax at 201-221-8578, or e-fax at 201-221-8578.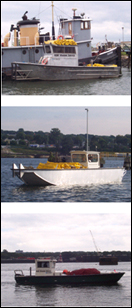 Maritime Security (MARSEC)

Ken's Marine Service can provide our customers and client's waterside compliance for Homeland Security MARSEC requirements. We can provide 24-hour-a-day coverage for your terminal, facility or dock. We offer waterborne patrols of facilities. We also have available anti-terrorism booming in various sizes which can be deployed around vessels for additional security. For more information, Please contact us by phone at 201-339-0673 or 201-437-3541.


Oil Spill Response Team

Ken's Marine Service has been in the oil spill response business for over 25 years. Whether it is a spill from a land-site remediation to an accidental discharge from a ship or barge into the harbor, Ken's Marine can handle your situation with professional and experienced manpower and equipment. Our employees are haz-mat certified and are experienced in all type of spill situations. We own and maintain all the necessary equipment that would be required to properly and efficiently cleanup any type of spill.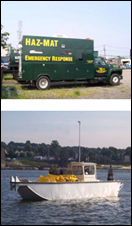 Marine Haz-Mat Response Team

Ken's Marine Service has experienced haz-mat trained personnel on call 24-hours-a-day to respond to any maritime haz-mat response. We have a BOA contract with US Coast Guard to provide service in the New York Harbor. Other clients include the US Navy, DEP, EPA, various power generating stations, and our ship and barge clients. We can respond to a wide range of emergency situations, such as floating drum and cylinder recoveries, chemical leaks from vessels & IMO Containers, shoreline and outfall leaks, and waterside generating plant spills. For more information, please contact as at 201-339-0673 or 201-437-2541.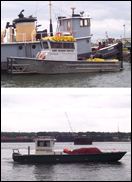 Other services:
Cargo transfer and offloading

Hazardous material response

Temporary and portable liquid storage

Underground storage tank removal and remediation



Ken's Marine Services.  © 2010. All rights reserved.

Professional and experienced manpower for any job...